On Saturday, the 4th of December, my first book "Letters To Abba" will be available for download. It's not available in paperback for now. Maybe sometime in the future, its revised edition might.
You know how you read a book and feel a need to scribble your own thoughts? I noticed that's the effect Letters To Abba will have. My editor felt it too. Just reading the manuscript, she had her own thoughts to scribble. That's why I've made hardcopy journals available to accompany this ebook. And guess what?
FREE JOURNAL GIVEAWAYS.
There are opportunities to win a free journal at my book launch.
1) A fun Bible quiz of ten questions. The winner goes home with a boxed journal. This is sponsored by a perfume brand – Hundred Per Scent.
2) Post your favourite Psalm, get 200 likes,fifty comments and ten unique shares. The first ten persons to meet this target win a free journal. This is sponsored by the man behind the Emmanuel Etim Prize for Exceptional Leadership. You'll get to meet him at my launch party.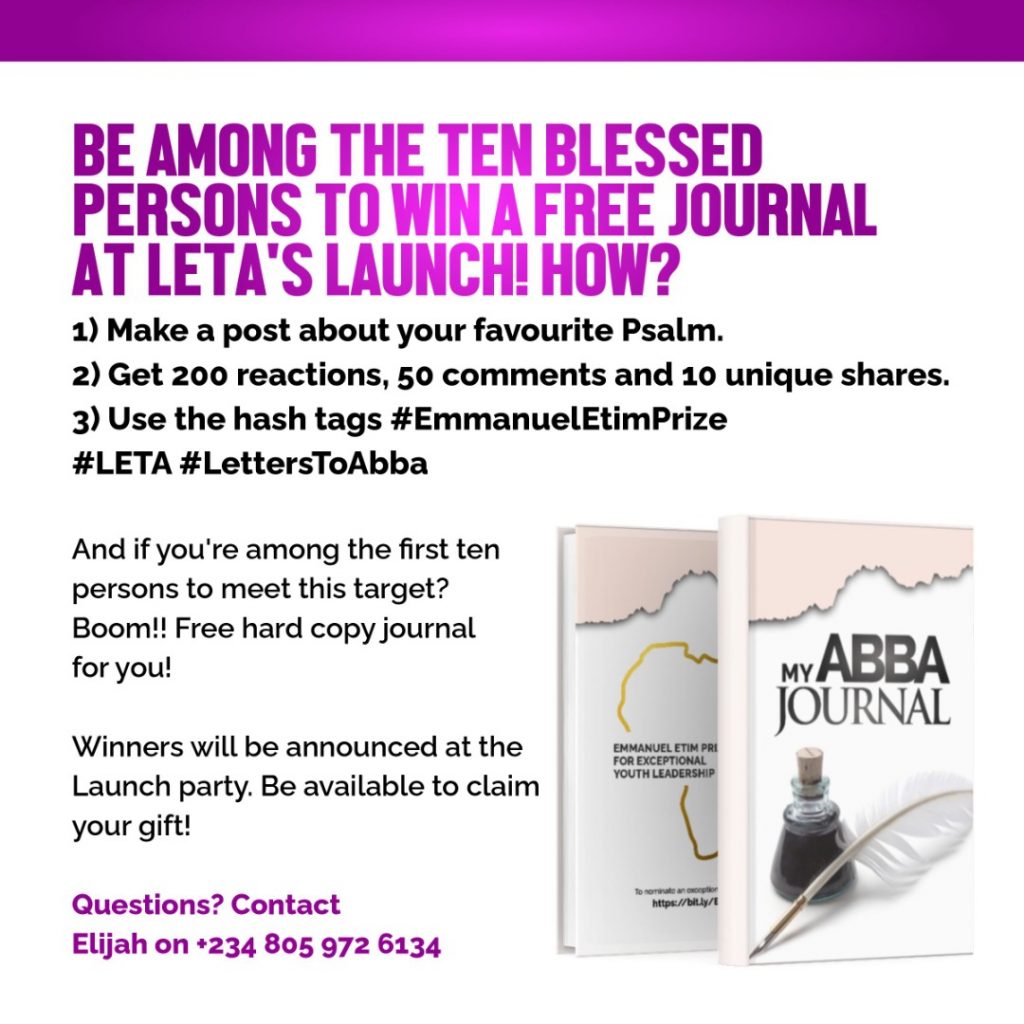 A SESSION ON JOURNALING.
This second gift is for every participant. Learn the art of journaling your thoughts and prayers in a way that eases your ache and brings clarity to the answers you seek. My seasoned guest will answer your questions and guide you step-by-step through the journaling process.
FREE EBOOK FOR EVERYONE!
When I first started out writing my book, I had a price tag in mind. People value what they pay for. When the thought to give it away tugged at my heart, I worried that they might think I didn't put so much into making and this and hence it has no value.
I thought of my hours of study, the sleepless nights of typing, erasing and retyping. And I wondered how I would get people to see that so much value was poured into this. But it's not my place to do that. My place is simply to bless your heart with this resource God wrote through me.
There's so much more and I look forward to experiencing this day with you. Whether online or onsite.
Don't leave without dropping a comment. Also, have you read FIVE BIBLE VERSES THAT DESCRIBE THE KIND OF FAITH WE RECEIVED AT SALVATION? You want to know. Click the text to read it.
SHALOM.