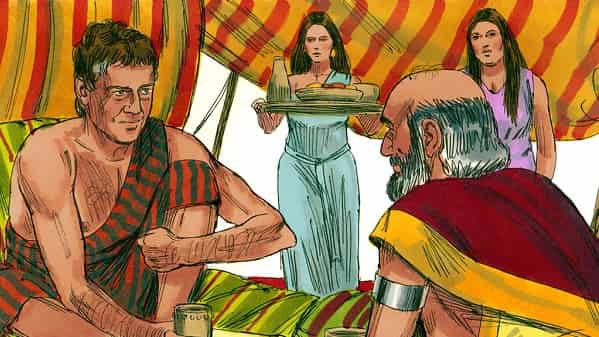 I've been on a one-year Bible reading plan, I still am. The last time I read through the Bible was in 2015, I'm doing it again in 2022. Are you on this journey too? I've come to note that there are portions of this unique book that you can only see by repetitive reading. This is the disadvantage of knowing the storyline before reading the story; it makes it easy to miss vital details. I missed it in the story of Jacob's marriage.
I know Jacob's story. I heard it before I was old enough to read letters. Jacob's marriage to Leah and then to Rachel has inspired so many sermons, fictional books, and even I have written a fictional storyline based on this intriguing story of the power of love.
I especially love this sentence about Jacob "Jacob worked seven years so that he could have Rachel, and the time seemed like only a few days to him, because he loved her". You probably know this story too. At the end of those seven years, Laban deceived Jacob. He gave him Leah instead of Rachel.
Just last week, my Bible reading for the day centered on this story and as I reread, my eyes caught something that made me scream. I still find it difficult to believe that I am just realizing this timeline in Jacob's marriage to the daughters of Laban.
As my custom is, I had already pictured myself in Leah's shoes. I imagined the horror of watching my husband go to work every morning to pay for the wife he would rather have. I imagined her lonely for seven years while Jacob worked his head off to finally marry Rachel.
And when the story stated that immediately Rachel was married, God opened Leah's womb because He saw that she was hated by her husband, I imagined how seven years of barrenness must have thrown her into deeper depression.
When the Lord saw that Leah was unloved, He opened her womb; but Rachel was barren.
Seven years after enduring Leah, Jacob finally married the woman he always wanted, the one he truly loved.
Right? Wrong.
If you're yet to see the error added in the above story line, then grab your seat belt. You are about to dive into the truth you also missed.
Ok. No drama, I'll just state it plainly.
On second thought, I'll let you read it for yourself.
25 So it came to pass in the morning, that behold, it was Leah. And he said to Laban, "What is this you have done to me? Was it not for Rachel that I served you? Why then have you deceived me?"
26 And Laban said, "It must not be done so in our country, to give the younger before the firstborn. 27 Fulfill her week, and we will give you this one also for the service which you will serve with me still another seven years." – Genesis 29:25-27
Have you seen it yet? The timeline we missed all our lives. You should be screaming already. Here it is again in the next verse:
Then Jacob did so and fulfilled her week. So he gave him his daughter Rachel as wife also.
Jacob married both girls, not seven years apart, but seven days apart. One week. We could say he married Rachel on credit because he paid for her after the wedding and not before.
30 Then Jacob also went in to Rachel, and he also loved Rachel more than Leah. And he served with Laban still another seven years.
One week apart. That's what I had missed about this story.
Did you miss it too? Even if you didn't, I'd love to read your thoughts about this story of Jacob and the daughters of Laban.
Click to DOWNLOAD a free copy of my book- Letters To Abba.