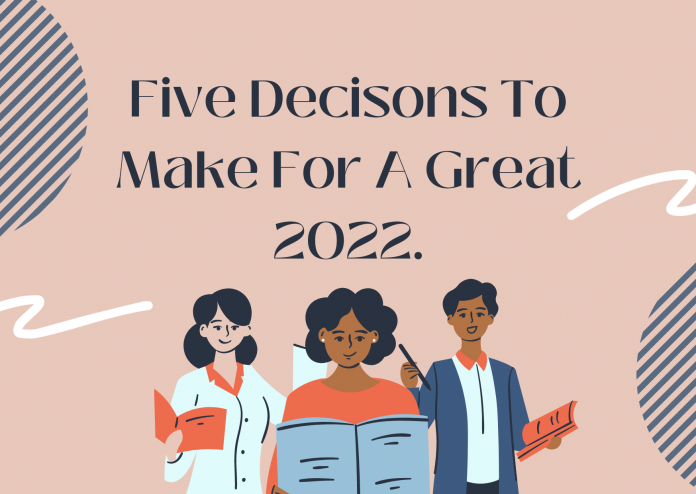 Let's face it, although the earth just completed its 365-days revolution around the sun, making for a new year, there's nothing really "New" about the coming days. We have the same 24 hours in each day, same dusk and dawn and the same 60 minutes in one hour.
"Happy new year" but will this year be "happy" for you? Will you look back and see that it was indeed a year of joy, peace and remarkable achievements? It's up to you to decide. And the best time to make a decision is before a situation arises that'll require that decision.
Here are five decisions to make for a year you can sum up as truly Great!
1. Decide That It'll Be A Great Year.
Sounds plain right? But no other decision can be as important as this. Write it down, say it to yourself, tell it to anyone who cares to hear, repeat it to yourself until it becomes rooted in your heart. Why?
You will have the things you say.
Death and life are in the power of the tongue: and they that love it shall eat the fruit thereof.– Proverbs 18:21
Beyond that, the decision to have a great year will birth the desire and drive to go all out to making it a great year.
2. Decide To Be At Peace.
It's definitely not your first year on this planet. You know the drill, you've lived through it year after year. Challenges will come, maybe you've started experiencing them already. Conditions won't always be perfect. No one prays for conflict but it might happen.
Decide that no matter what springs up in the hours that make up this year, that you'll be at peace. Peace is not the absence of turbulence, it's a state of complete rest. It's the absence of anxiety and inner turmoil. Guess how you can be at complete rest while the world around you is in total unrest? It's found in Isaiah 26:3
Thou wilt keep him in perfect peace, whose mind is stayed on thee: because he trusteth in thee.
Decide to be at peace by keeping your focus on the Prince of peace. When the storm rises, close your eyes, meditate on His word and His lovely personality. Speak to Him. Choosing to be at peace is actually a decision to stay on The word. Jesus is the word. Peace is found in Him.
3. Decide To Grow Mentally and Spiritually.
It is true that the current level of achievement you have is a product of your level of understanding. If you knew better, you would do better. Your mental state influences the success you experience or fail to experience.
Read good books. Follow people who share content that have value. Make a decision to grow in knowledge.
Your Spiritual growth is the foundation for it all. You're first a spirit-being. Choose to enthrone your spirit. When your spirit rules, you'll be in greater alignment with God's will for your life. Your perspective will be excellent and your decisons will have less mistakes when you're led by your spirit.
4. Decide That You'll Use Your Time Wisely.
Our generation is faced with the greatest distraction of all ages. You know what it is. Everyday, everyone of us will have to contend for the wise use of our time.
If your year will be as productive as you envision it to be, then you will have to regulate social media time. The wise use of time is one of the distinguishing attributes of great men. Choose not to let the hours slip by.
There are other distractions and time wasters. You've lived long enough to know what yours are. Identify them and work towards eliminating them. Decide that no day will be stolen from you by these time wasters. Remember Apostle Paul's word of caution in Ephesians 5:15-16?
"See then that ye walk circumspectly, not as fools, but as wise, redeeming the time, because the days are evil."
Set schedules if you have to, have a social media fast if it'll help you, don't pick some calls, delay a few visits. Do what you're led to do in order to redeem, to make profitable use of time, decide to use your time wisely.
CRUSHING PROCRASTINATION, a book by the amazing Deborah Funbunwhe will help you with your usage of time.
5. Decide To Be Consistent.
Early in the year, energies are high. It's like starting a race, momentum is great. But the days pass by and unachieved daily goals become undone weekly and monthly goals and soon, hands weaken.
Decide that even if you skip a day's target, you won't skip another. When your energies are regained after a brief pause, decide that you'll start again like it's the beginning of a new year. Don't give up. Decide how you can stay consistent. Read books on consistency. Watch videos of those who stayed consistent, learn how they do it.
Decide that you will stay consistent. Decide that this is the one year you follow through to the end.
MAY 2022 BE A GREAT YEAR FOR YOU!
💕
Have you downloaded your free copy of my book LETTERS TO ABBA? Get yours here and savour these beautiful conversations between a child and her loving Father. :https://letterstoabba.journalofajesusgirl.com