It is possible to grow up in a Christian family and never hear the name of some Bible personalities for at least the first ten years of your life. And among the popular ones, some are more popular than others. David sits at the top of this popularity list, alongside Abraham, Joseph, Solomon, and Moses, to name a few.
Within the first decade of your life, you most definitely knew all of David's story; the killing of Goliath being the most outstanding one. But it is not his popularity that draws me to him, I used to think it was.
I don't know when I started loving David or how it happened. I just noticed that every time someone would ask me who my favourite Bible Character was, I would mention David. Just recently, it dawned on me that there's one constant trait in David's life, a characteristic I've always admired that made me love this Patriarch who embodied it.
When I say that David is my favourite Bible Character, I do not mean that others don't matter to me, neither do I mean that he was the best. Far from it, you know his story, you can attest to the fact that he made grave mistakes and committed terrible sins. He even murdered a man and took his wife. Also, he is my favourite Old Testament character. I do have a favourite in the New Testament, care to guess who that is? Mention in the comment section (Bonus: It's a tie between three people).
There are several things that stand out in David's life. Some are widely discussed and there are others that are barely noticed, like the fact that David was God's backup plan after the original plan failed. I do believe that when God told King Saul, through Prophet Samuel, that His plan for Saul was to establish His Kingdom forever. That he meant it, He wasn't bluffing.
13 "You have done a foolish thing," Samuel said. "You have not kept the command the Lord your God gave you; if you had, he would have established your kingdom over Israel for all time. 14 But now your kingdom will not endure; the Lord has sought out a man after his own heart and appointed him ruler of his people, because you have not kept the Lord's command." – I Samuel 13:13-14
If Saul had aligned his heart with God's will, David would never have been King of Israel. Personally, this clause in David's life is really encouraging. It encourages me to serve where I am with all my heart, especially in my marriage. I have been bombarded with thoughts such as 'What my husband's previous relationship had worked, would I be his wife?' But I am inspired to enjoy where I am and give my best to the assignment at hand. I am here now, it doesn't matter if I was the first choice or the third. Just as David came nothing close to Saul in appearance, I am comforted by the truth that God doesn't always choose the silver vessel, just because it's silver. He chooses the surrendered one. As I surrender to Him, He enables me to do what He has called me to do, even if there are others who are more qualified than me. (1 Corinthians 1:26; 28-29)
Have you ever noticed that when God told Saul "I have rejected you and sought a man after my heart", David wasn't even born yet? This statement was made in the second year of Saul's reign, eight years before David was born.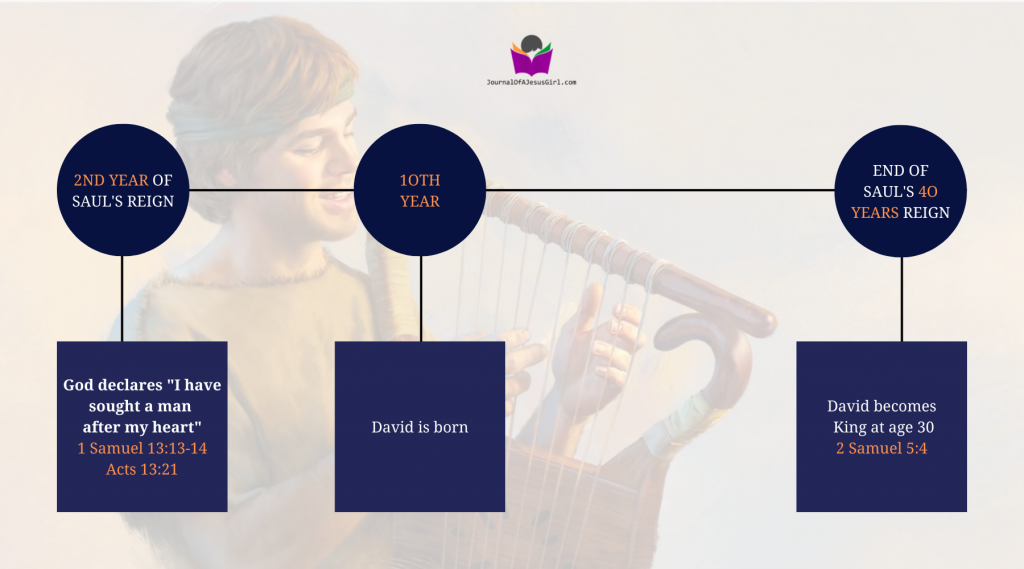 David was a total contrast to Saul. He took responsibility for his actions, whereas Saul blamed others. But the differences between David and Saul are not my favourite things about David.
Another great part of David's personality was his perspective. He saw things differently than other people did. While everyone saw Goliath as advantageous because of his physical characteristics, David saw him as disadvantaged. This was because David understood the covenant and its implications.
David's life hit really low points; from hiding away from Saul, to running for his life because his own son wanted to kill him. For me, the saddest of all sad events that happened in David's life was the scene in 1 Samuel 30. Not only did David lose his wives and children, but his own men turned against him, to the point of reaching a unified decision to stone him to death. These same men he fought for, these men whom he gave purpose, these ones who saw him as a hero a few minutes back. But it is from this story that I first began to see what drew me to David.
David was greatly distressed because the men were talking of stoning him; each one was bitter in spirit because of his sons and daughters. But David found strength in the Lord his God. – I Samuel 30:6
After reading these words, I noticed that there was something David had that was a constant throughout his life and that was his relationship with God. He knew God. He drew His strength from God. He trusted God and trust doesn't happen by chance, it is birth from experience. His knowledge of God wasn't a result of hearing Prophets speak at the temple. He had a day-to-day friendship with God. He spent so much time with God that He understood the personality of God. His prayers were different, His Psalms echo the depth of His knowledge of God. Even when he sinned, he understood God's mercy.
David's life is a pictorial representation of the truth in Daniel 11:32 –Those who do wickedly against the covenant he shall corrupt with flattery, but the people who know their God shall be strong, and carry out great exploits. (Nkjv). David's Strength wasn't in armour or shield, it was in trusting God.
What amazes me most about David's love relationship with God is that it was under the old covenant where God wasn't residing in the lives of men, He wasn't saved, all he had was the visitations of God and yet He enjoyed such a rich relationship with God. David couldn't call God Father. He wasn't a son (John 1:12), yet he related to God as one should. It inspires me. It challenges me to lay hold of the advantages Christ has provided for me.
I do not have visitations of The Spirit of God, I have a constant habitation of His Presence. And like David, my relationship with God should be top priority. And even more!
What stands out for you in David's story?